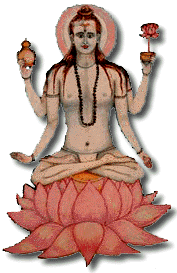 Yoga Teacher Training and Certification Program
By
Anmol Mehta
Namaste My Friends,
My name is Anmol Mehta and I am the creator of the Mastery of Yoga Teacher's Training and Certification Program.  I am also the author and founder of Mastery of Meditation and Yoga, which is one of the largest Free Yoga and Meditations portals on the web.  My life's mission is to spread the wisdom of yoga and meditation to as many people as I can and I am very happy that the Mastery of Yoga Program has become one of the most popular online yoga teacher training programs in the world.
If you are interested in yoga, meditation and spirituality and are keen to become a teacher, I assure you that you will love this program and that it will cover every aspect of becoming a successful and skilled yoga instructor.  I also assure you that money will not be an issue, as I have worked very hard to make the entire program extremely affordable.
Below you will find extensive details about this program, which should help answer any questions you have.  If you do need more information though, feel free to contact me directly at anmol@anmolmehta.com.
Love and Light,
Anmol
YOGA TEACHER TRAINING PROGRAM HIGHLIGHTS
   Join Hundreds of  Successful Yoga Teachers

   Includes 20+ Highly Rated Instructional Videos

   650 Page, Fully Illustrated Yoga Teacher's Training E-Manual

   Guaranteed Most Affordable Online Yoga Instructor Course

   Heal Your Body, Mind and Emotions

   Discover Meaning and Purpose

   Learn the Best Hatha and Kundalini Yoga Poses and Techniques

   Find Wisdom, Joy, Happiness and Peace

   Learn Yoga Breathing Exercises and Meditation

   Get Full Support from Anmol

   Get Listed In a High Authority Yoga Directory
YOGA TEACHERS TRAINING PROGRAM GOALS
   Teaches Basic and Advanced Yoga Poses and Postures

   Teaches You How to Teach a Great Yoga Class

   Teaches Meditation and Pranayama

   Teaches Yoga Hand Gestures (Mudras) and Bandhas

   Teaches You How to Live an Enlightened Life

   Teaches Yoga Routines and Yoga Kriyas

   Shows You How to Run a Successful Yoga Studio

   Teaches You How to Build an Online Yoga Portal

   Makes You a Healer and Yoga Master
YOGA TEACHER TRAINING COURSE REVIEWS
I can honestly say that I can add the feedback from any student who has taken the course here and it will be impressive.  Below is just a small sample of the testimonials regarding the training course.  You will find more testimonials and reviews on the following page:
Christine Finds Meaning and Purpose:
I not only learnt many things about myself, but also discovered many ways to overcome things I didn't think were possible…this course is helping me understand my path and actually embrace it. That was the one thing I was lacking in life, just taking that first step. Not anymore. I always knew I was here with a purpose, you helped me find not only what it was, but what to do about it. Words cannot express the gratitude I have for you creating a course like this. I thank you sincerely with everything I am.
Erin Teaches Her First Yoga Class:
Thank you so much!  I taught my first yoga class with my new place of business (Excela Health) and I had wonderful feedback!……thank you for the guidance and education 🙂
James Giving a Yoga Retreat and Teaches His First Class:
This program really helped me develop my yoga practice deeper and richer than I'd expected. It was challenging, a pleasure and quite informative. Your videos, blogs and teachings are very sincere and great reference! Ill return over and over and over!
I'm already giving my first public yoga class on Aug 20th then in sept 2x a day at a 4 day retreat in the mountains!
Yoga Course Helps Rose Finds Peace and Happiness:
I am tremendously enjoying your website and yoga teacher training :).  As a result I am a lot more peaceful, I practice meditation meditation 3 time a day, and always start my day with 2 hours of yoga.  Thanks to all the information given in the course, I have been able to give myself the structure that I needed for my yoga practice, for my happiness, my spiritual life…
Also your kids look adorable 🙂 and your articles on yoga for kids has motivated to me to start giving short classes for kids 🙂
Leela Loves the Content and Training Videos:
Thank you for the opportunity to learn and complete this Yoga Certification Training. Even though I was exposed to Yoga with several teachers in the past, I learned mostly the practical part of the Yoga and only limited amount of theory part. You provided tons of information, very detailed, step by step referencing, benefits and guidelines and really I learned a lot from this material. The video pieces are excellent to learn, looking at them it is very easy to follow.
HOW THE CERTIFICATION COURSE WORKS
How Long Does It Take:
The course is designed for 8 weeks, but you may take longer or shorter depending on your level of expertise.  The course qualifies for 200 hours of yoga training.
Course Material and Testing:
All the material is in digital format and you will have access immediately after ordering.  This allows to start the program right away.  Once you are done with the course, you simple email me for the exam.  The exam is take home, which you return to me upon completing.  This then qualifies you for your certification.
BONUS GIFTS AND SAMPLE VIDEOS
For a limited time I am also pleased to include for free 2 great gifts for you for free when you join the training program.  You will get my life transforming e-book, Amazing Insights, and you will get the very popular Mind Transforming Guided Meditation MP3.
Amazing Insights E-book:
Amazing Insights has been downloaded over 100,000 times and it reveals the truth regarding relationships, reincarnation, karma, spiritual enlightenment, meditation, career, passion and more.
Consciousness Expanding Guided Meditation:
The consciousness expanding meditation guides you step by step on a profound journey back to the Source and helps you awaken to your divine and infinite nature.
Sample Videos:
Below are 3 of the 25+ videos that are part of the Online Yoga Teacher's Training Course.
Core Abdominal Power Yoga Video
AUM Mantra Meditation
Kapalbhati Yoga Pranayama
HOW TO REGISTER FOR THE CERTIFICATION COURSE
Fees:
I guaranteed this would be the most affordable Yoga Teacher's Training Course and the web, and I meant it.  The entire course, including the certificate and letter of recommendation costs just $47.  For $67 you will also get listed in our high authority Yoga Teacher's Directory and will also get your studio listed in our High Ranking Best Yoga Website's Page.
Money Back Guarantee:
I am so confident that you will love Yoga Teacher's Training Course that I offer a 60 day no questions asked full money back guarantee.
100% Secure Payment:
To join the certification program select the price level and click the ADD TO SHOPPING CART button.  You will be taken to the Mastery of Meditation and Yoga store for 100% secure checkout.
You can pay by Credit Card / PayPal / E-check:
Full Certification Program – $47
Full Certification Program + Links – $67
TO PAY BY CHECK
Make Check out to:
Anmol Mehta
Send Check to:
Anmol Mehta
66 Corona Court
Old Bridge, NJ 08857
USA
Then E-mail Anmol:
anmol@anmolmehta.com
For any questions or issues feel free to email me at anmol@anmolmehta.com
GOD BLESS YOU ALL